What is Facebook Live and How Does It Work?
What does the Facebook say about Facebook live? "Live lets people, public figures and Pages share live video with their followers and friends on Facebook."
Now, you can do live broadcast on Facebook with Facebook Live. The live streaming concept is around there for a year now, Periscope, Meerkat, Livestream and UStream are few apps that has been used for live streaming over the past year.
Facebook live allows you to broadcast live video from iOS and Android mobile devices with the Facebook App and From your Facebook Page by using Video encoding software such as Livestream, OBS, Wirecast, Xsplit, or ffmpeg or hardware that supports rtmp or rtmps.
Facebook only provides you the Live streaming option on Facebook pages and Facebook app  Android devices and Apple devices. There is no option on your Facebook profile or group to do this.
Check this video to find out How You Can Broadcast on multiple FB Profiles, Fan Pages and Facebook Groups and even you can syndicate it on Twitter and Linked in at the same time.
Facebook provides the Live video API for developers that can be used to broadcast live video from your Profile page or on Facebook group. Check my other post, "How To Broadcast With Facebook Live From Your Computer?" to learn more about this.
Why Facebook Live?
You can interact with your followers and friend in real time, Answer their questions, get their opinion and check out  their reactions to determine how your broadcast is going.
When your broadcast goes live your followers can receive notifications so they can watch and engage with you at the right time.
people love watching videos and if they found it useful they will share it it will help you to get more followers.
Your video will be available on your timeline even after you end your broadcast for your followers to watch.
People can find you on the Facebook Livemap when you are live and can watch.
How to use Facebook live on iOS and Android Devices?
When you are on your Facebook app on a mobile device tap on "What's on your mind" you will be given five options as in the picture bellow, tap on the "Live video" option then click on continue.
You can set who can see the video on the first step, if you tap on the arrow just below your name there will be four options to choose from, Public, Friends, Friends except… and only me. Select the option suit your video. If you  are just testing or practicing the Facebook live, select "only me" and practice until you are confident with it. You can also change your privacy seting on the third screen where you type your description of your broadcast.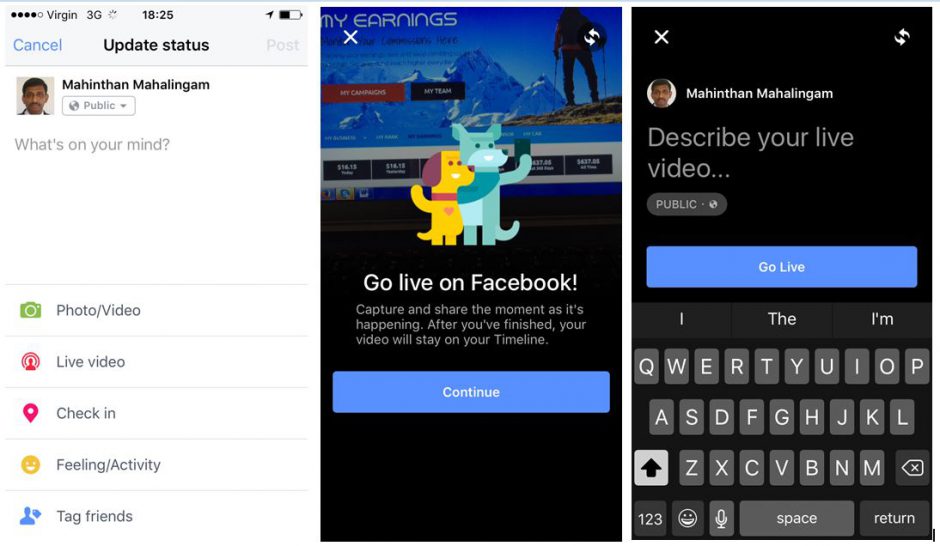 On the next screen write a compelling description about your live video, this will show up on your friend's News Feeds like a status update above the video and tap on "Go Live", there will be a count down timer 3, 2, 1  boom, you are now brodcasting your video live. As soon as you start broadcasting it will appear on your Facebook profile and your friend's Facebook profile.
You can switch between the front and rear cameras while you are live.
you can broadcast up to 90 minutes in on go with Live.
When you finish tap on "Finish" then your live video replay will be saved on your time line.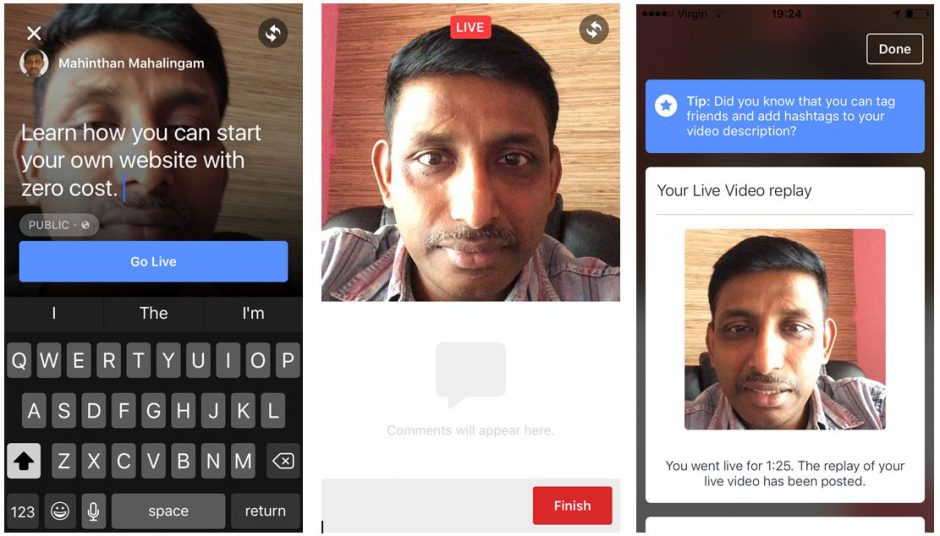 Now, you can do your live video broadcast with Facebook Live from your iOS and Android devices.

I know it is hard to do live broadcasting and interacting with the viewers at the same time on a mobile device.
If you would like to know how you can use PC or MAC to brodcast with Facebook Live check my other post "How To Broadcast With Facebook Live From Your Computer?".
Now, If you really want to  reach more audience what do you have to do?
You have to go live on multiple Facebook  profiles, your Fan pages and Facebook groups and even you need syndicate your broadcast with Twitter and Linked in if you can.
Am I right?  If yes,
Is it possible?
The answer is YES.  HOW?
Yes it is possible with LiveLeap.  Watch this video that shows you the exact STEPS.
If you need any help or have any suggession please comment below.
Regards,
Mahinthan
Follow Me On Facebook